For optimum viewing you need the font "Bradley Hand"
This page is Graphics Intense, please allow it to finish loading.

This site is dedicated to all those souls
who have yet to be returned to American soil.

This Site Will Proudly Participate!
I HAVE ADOPTED 2 MISSING AMERICAN HEROES

This Operation Just Cause Web Ring site is owned by Deb Brewer

[Prev] [Random] [Next] [Skip Next] [Next 5] [Members] [Join]




You can help make a difference!
Please write a lettter asking for our heroes to be returned.



One Soul Lost is One too Many
©1998DebBrewer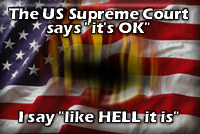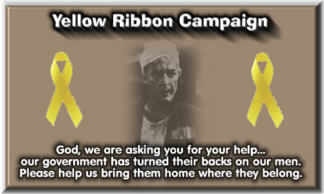 Lost Souls is a member of the

Want to join the ring? Get info Visit other sites in the ring now!
[Prev][ SkipIt ][ Next5 ][ Next ][List Sites] [ChatRooms]
This Nonveterans for Veterans site owned by Deb.
[ Previous 5 Sites | Previous | Next | Next 5 Sites | Random Site | List Sites ]
This VetNet ICQ Network site owned by 13688671.
[ Previous 5 Sites | Previous | Next | Next 5 Sites | Random Site | List Sites ]

©1998DebBrewer
All Rights Reserved Internationally